Ruckus Cloud Subscriptions
Ruckus Cloud is a subscription-based service with continuing renewals at regular intervals. Licensing is used interchangeably with subscriptions sometimes. Ruckus Cloud accounts are handled differently during various subscription states.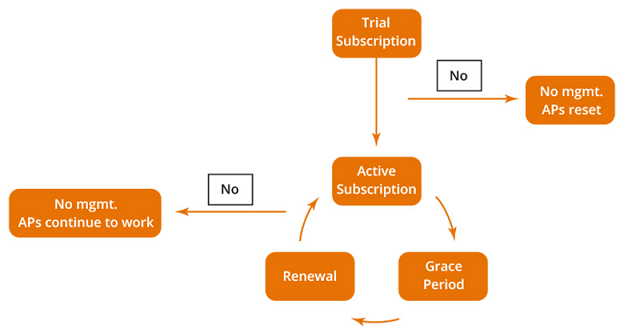 Active Trial Subscriptions
Ruckus Cloud offers a try-and-buy program. Prospective customers can try Ruckus Cloud for free by signing up for a free trial at www.ruckuswireless.com/cloud. A trial subscription allows access to all features for a duration of 60 days. Prospective customers can also request access points (APs) and switches. Qualified opportunities can request from 1 to 10 subscriptions during the trial period.
Expired Trial Subscriptions
There is no grace period provided at the end of a trial subscription. An impending expiration banner with a notice for renewal appears on the dashboard until the expiration date. APs and switches are factory reset at the end of the trial period. All configuration data is lost.
Active Paid Subscriptions
If a prospective customer moves from a trial to a paid subscription, the prospective customer becomes a regular customer and their Ruckus Cloud account stays the same. There is no limit on the number of subscriptions that can be active.
Expired Paid Subscriptions
Partial expiration: There is a 60-day grace period for active (paid) subscriptions. All features are available during the grace period.
Thirty (30) days prior to the subscription expiration, an alarm is raised, and you receive an email notification on a weekly basis until the date of the expiration. The text in the subscription expiration banner changes depending on the status of the subscription, the number of days before it expires, or the numbers of days left in the grace period. If there are more APs or switches than subscriptions, APs or switches are picked at random and deleted from the Ruckus Cloud user interface at the end of the grace period. An email notification is sent with information about the APs or switches that have been deleted by the system. When APs or switches are deleted from Cloud management, the APs and switches continue to broadcast the networks or SSIDs. DPSK, captive portal, and other guest Wi-Fi services will not operate for the deleted APs because they require Cloud components to function. If a customer is downsizing the installation, it is recommended that the customer delete the APs and/or switches that are no longer needed from the Ruckus Cloud interface.
If there are different sets of subscriptions activated at different times and expiring at different times, the expirations do not auto-adjust. Partial expiration can result in some APs or switches being deleted from Cloud management; however, deleted APs will continue to broadcast SSIDs subject to the limitation on centralized services. Reminders and grace periods can help you plan your renewals. During the renewal of the first set of expirations, you can plan a co-terming. The renewals team can work with you to co-term your subscriptions.
Total expiration: After the grace period expires, you will not be able to manage the APs or switches using Ruckus Cloud. An email notification is sent with details of the expired APs or switches to allow you to identify and renew the AP or switch license subscriptions. APs are not reset to factory settings, and they will carry their most-recent configurations and continue to service clients indefinitely. The AP credentials will be the same as those used to access the Ruckus Cloud portal.
AP or switch reference in the Ruckus Cloud user interface is removed after the grace period, so the AP or switch is not manageable from the Cloud. But, the AP itself retains its configuration and continues to service PSK and 802.1x SSIDs (new and existing clients) indefinitely unless it is reset to factory settings by a local administrator. Clients connected to these WLANs will not see any disruption. DPSK, captive portal, and other guest Wi-Fi services will not operate because they require cloud components to function.

Renewals
Renewals are processed like new subscription purchases. Make sure to use CLR SKUs, and not CLDs, when purchasing renewals. The renewals are not tied to specific AP or switch serial numbers. Therefore, when a renewal subscription is activated, the renewal quantity is added to the total number of AP or switch licenses already purchased and remaining active.